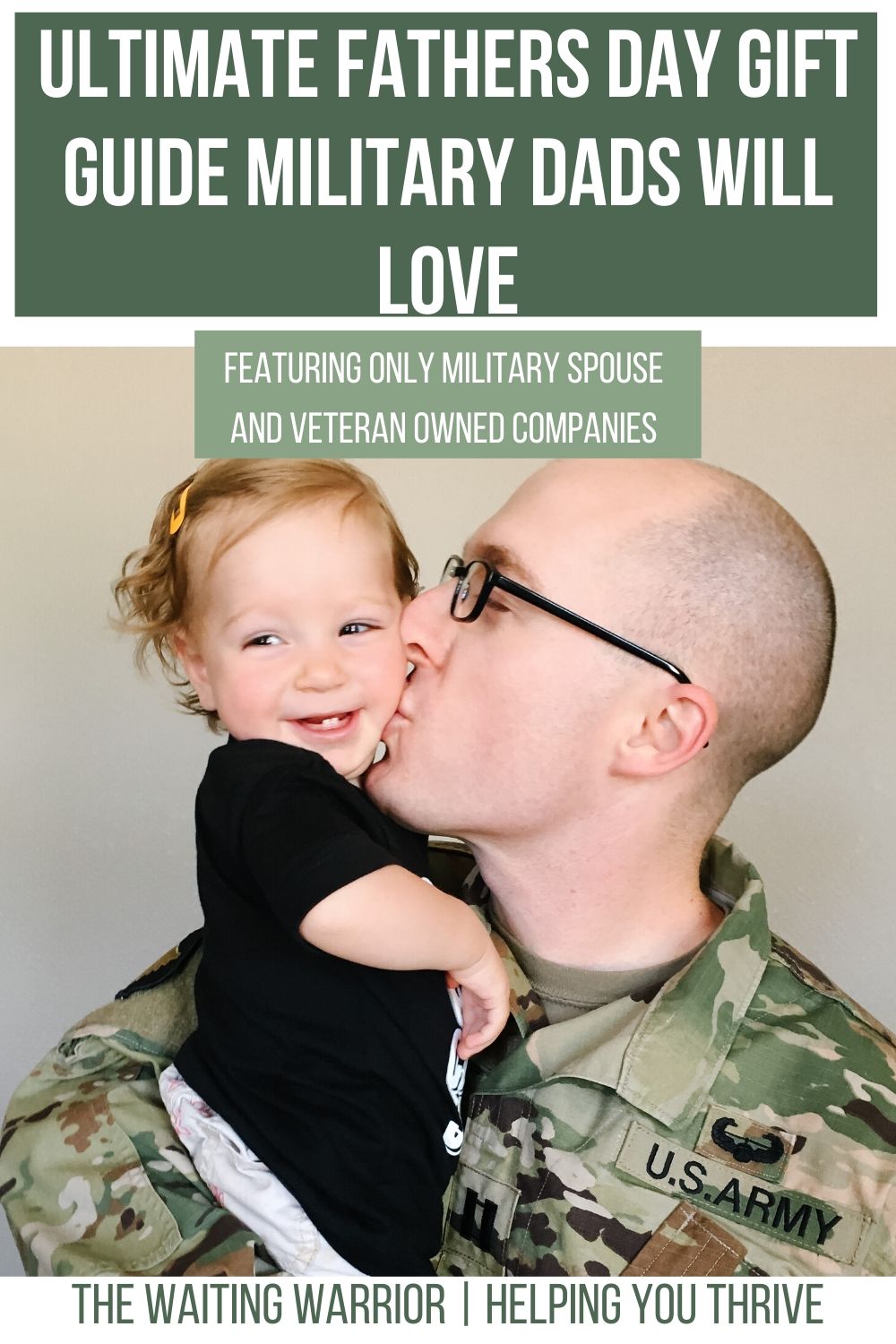 Ultimate Father's Day Gift Guide A Military Dad Will Love
Are you wondering what the heck you or your kids are going to get your military dad for father's day? Well, look no further! I put together this guide to not only help you give your military dad a gift he'll love but also support our military community too!
Your Military Dad Deserve the Best
Your military man deserves the best for father's day, and while I know you can find military gifts at your nearest base, these ones are made with love by military spouses or veterans. Trust me, they are all the more special. Just like he is!
Father's Day Gift from Military Spouse and Veteran Owned Companies
I've organized the guide a little bit differently. First, there's a few I've listed a few from an awesome new market place called Spouse-ly! No, this particular post is not sponsored. They didn't pay money or even ask to be directly talked about. BUT YOU NEED TO KNOW ABOUT SPOUSE-LY. They are an online market place were all the vendors (products and services) are military spouse or veterans. Can you say awesome? Next, you'll see specific items each military spouse or veteran owned company offer that I think would be great Father's Day gift for your military dad. Scroll down some more and I have three categories: Veteran Owned, Military Spouse Owned, and Veteran Benefitting (actively gives back to military community/veteran charities). Happy Shopping and make sure you Pin this guide so you have the list for birthdays, promotions or retirement!
Spouse-ly Military Father's Day Gifts
Father's Day Mug: This one is tied with the apron for my personal favorite. But I'm partial to gifts that make my soldier laugh 🙂
Men's Apron: Don't tell Austin, but since he's been grilling all the time lately, it's likely this will be purchased very soon. The only question isn't when, but how do I choose which one!?!
American Flag Wood Sign: You could put this beautiful sign anywhere! Any military dad would love this in his home or office!
MISC Gifts for a Military Dad
Branch Seal and Creed Print from BRUSHFIRE BLUE: While Brush Fire Blue has a myraid of military prints, her prints of your miltary dad's branch crest and embedded creed (with customized name/dates/titles if wanted) are perfect for father's day! Classy, clean, personalized and they'll fit right in the home or office
Military Themed Emojis and Stickers from Moni Jefferson: EVERYONE with an iphone should just go and get this one right now! It's $1 and will up your text game with over 100 military emojis and stickers ranging from military pride, military lingo and acronyms.
Tactical Pen from TF TakeFlight: This is no ordinary pen or cliche gift! It's not only a great pen, it's also a bottle opener, flashlight, glass breaker and more. So it's a man's pen. A military man's pen! 😉
Limited Edition Field Box of Soap from Duke Cannon: With this you'll get 5 bricks of soap in an authentic military field box used to carry .30 cal ammunition. The cans are reusable so even after he's done smelling good he'll get plenty of use from the water tight case!
Knife from Weimy Cutlery:If your service member is a knife guy, you know this is good choice for you!
American Flag Belt Buckle from Combat Buckles: Your military dad needs a ratcheting action buckle. End of story, it's a fact 😉 So, if he doesn't have a ratcheting action buckle yet you really have to try this one! It's adjustable, no hole, and patriotic!
American Flag Bottle Opener from Bottle Breacher: This bottle opener is made out of recycled, authentic, decommissioned .50 caliber bullets.
Coffee and Food Your Military Dad Will Love
Operator's Grill Kit or Build Your Own 6 Pack from Frag Out Flavor: The grill kit comes with an apron, rub and a recipe ebook or if you know the flavors he loved you can build your own 6 pack of rubs. Either way, its a great gift to ensure a summer full of happy grilling!
Gold Star Coffee Blend from De Espresso Liber: I'm not going to lie, I don't drink coffee, but this company was recommend by making military friends who do so I know you won't be disappointed!
Coffee Shop in a Box from Swatara Coffee Company: Again, don't drink coffee, BUT this coffee box sounds like the perfect gift right now! Grab a box, and then sit together and reminisce on when you used to be able to go out for coffee dates 😉
Orbit Charging Wallet from Wilco Supply: This wallet is an all around win! Uniform approved but nice enough for civies AND IT CHARGES THEIR PHONE! Use the code " WaitingWarrior " for 15% off until Father's day at midnight!
MACV-1 Boots from Go Ruck: Not only does every military dad always need a pair of new boots, but with Go Ruck right now for ever pair of boots you buy they are giving a pair to law enforcement. Double win!
Green Book Covers from Green Book Cover: All Military Dads have them, and they aren't pretty. So why not give your military dad a cover that reminds them of you and is something nice to look!
Travel Kit from Sword and Plough: Your service member has to travel all the time, so these clean looking travel kits will be perfect for all his toiletry needs!
Uniform Retirement Shadow Box from Bells Old Glory Shop: If your military dad is nearing his retirement I think this is the COOLEST gift! Even if you don't have a uniform to send, Bells Old Glory Shop can provide one and make an amazing keep sake your service member will treasure forever!
Coin Rack from Lazer Ladies: Whether you want a simple one or a fancy pyramid these coin racks are perfect for his ever growing collection that needs to be organized and displayed.
Distressed American Flag Tumbler: Every military dad needs to stay hydrated, so what better way to do that then by showing some American pride?!?
Apparel for a Military Dad
I won't be giving any specific recommendations here because everyone's style is so different, but all of the companies have great options your military dad will love!
Hunger Driven: Designed by an athlete for an athlete. Plus they're 100% active duty and veteran owned and operated!
Grunt Style: This company not only has large selection but also have a whole Father's Day Collection to check out!
Nine Line Apparel: If you ask a group for a military apparel recommendation, 8 times out of 10 you'll hear Nine Line Apparel. That's no accident!
16 Submarines: Navy Families this one is for you! This company has everything your sailor will love. 16 Submarines has Official Navy Products and so much more!
Combat Buckles: Check out Combat Buckles for a variety of patriotic themed hats
Military Spouse Owned Companies Father's Day Gifts for Military Dads
Veteran Owned Companies with Father's Day Gifts
Companies That Donate to Veteran Benefitting Charities
**While I do not own every item on this guide, it was put together from suggestions of other military spouses and personal research. No company is sponsoring this post, though some links are affiliate links, meaning I will receive a small commission, at no cost to you. In fact, my links normally give you a discount 🙂
Happy Shopping and THANK YOU FOR THE SERVICE YOU DO AS A MILITARY SPOUSE!!