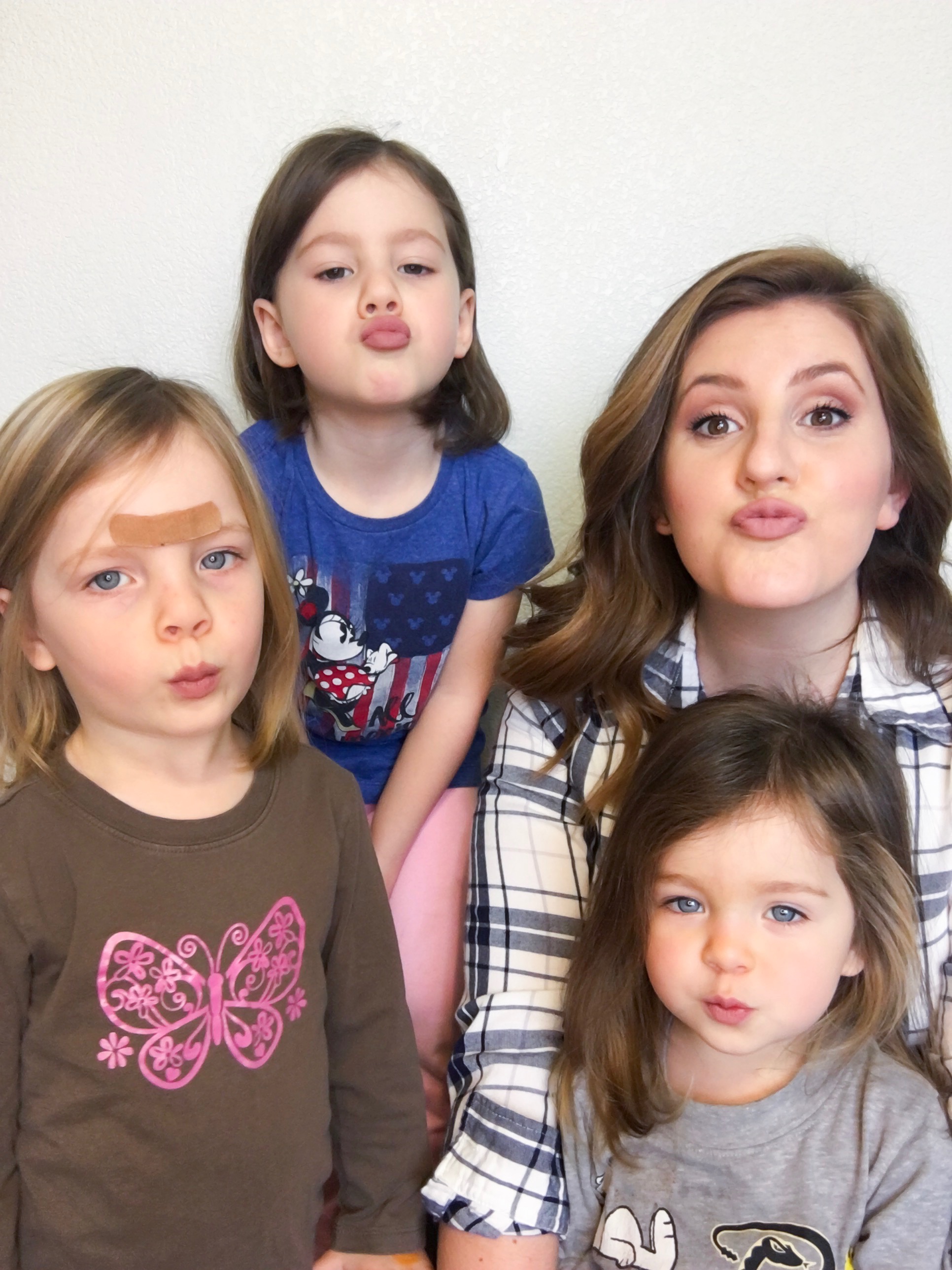 As a momma of 3.5 littles (oldest turns 6 in April) I 1,0000% understand how you getting ready everyday can turn into the last priority.
But I have a huge problem with that. As a mom you are taking care of your children, and as a Waiting Warrior you are always doing things to take care of your loved one. Even though you are taking care of other people, that in NO WAY means you shouldn't be taking care of yourself. Quite the opposite. Just like the brilliant Hannah Mars said in her episode (iTunes) (Youtube) (Stitcher), you have to take time to fill your cup so you have something to give.
I'm not saying you have to spend an hour every day, but I know you can spend 5-15 minutes on yourself. Like I was saying throughout the month on Instagram and Facebook, when you look put together it helps you feel put together. Again, I'm not saying you need to do some intense artistry eyeshadow (though if you know how to do that, you're legit), but you can do something to give yourself a boost everyday.
My Two Face Fast and Favorites
1- Maskcara Beauty's 3D Foundation : This has no joke, changed my life. I've never found a makeup product that solved so many problems for me before. Most importantly for this post, this bad boy gives me a fresh and brightened up face in 5 minutes. And that's with a kid pulling on my leg or asking how to spell random words. With my one (but gorgeous) compact I use a highlight, contour, lip+cheek, and illuminator color to make the tired face of mine look like it has actually slept for the last 6 years 😉
I am a Maskcara Artist, meaning I have been trained all things Maskcara Beauty and can help you know what colors you need for your fine face! Just email me maskcarabymichelleb@gmail.com or reach out on social media and I'd love to make your makeup routine easier for you!
2- Shine Cosmetics : I have a husband who HATES kissing me when I have any sort of lips on. So for 6 years I just stopped wearing anything because, no offense lip products, but I'd rather be kissed. Then one magical day in early 2018 I found out about Shine's Lip Last and my lips have never looked better kissed 😉
Every style blog I've ever read says that the lips are really what completes a look, what makes a women put together, even if all she has on is lips and mascara. Well, now you can do that, get your kisses, and have lips that last. Lip last is a non transferable, smudge proof, color for your lips. I've been in love since the day I bought my first bottle, and I know you will be too.
I even got a code for all my Waiting Warriors to use to save 10% (it will even stack on most of their sales!). Just use MBowler10 and pucker up lady!
Hair
Motherhood is the land of the messing bun. But while a messing bun is traditionally accompanied with an "I don't care attitude", it doesn't have to be that way.
SIMPLE AND BLUSH is my mom hair's dreams come true. They have the perfect head ties in the best colors to go with any and every outfit. It's magic because even if you don't have the time to really style your hair, you tie one of these bad boys around your head or hair tie and you instantly look like you put forth a ton of effort. It's the ultimate cheating that is 100% ok 🙂
Check out their website HERE and if you don't want to choose just one like me make sure you see their 3 bundle option! PLUS use the code WARRIOR25 for 25% off!
WAITERS AREN'T THE ONLY ONES WHO NEED TIPS
-HAIR: Don't undervalue the power of a half do. Curl or straighten half your hair and then put the rest in a twisted looser bun. Viola. Your hair looks great and you only spent half the time. Plus, now your hair won't be getting in your face all day.
-Invest in a good brush, but that doesn't have to mean it's expensive. Bath Pack is our household favorite. My girls love it because it is soft on the tangles (they notice the second I try to use the other brush for their dolls that's always conveniently right by me) and I love it because it takes away almost all of my frizz! Don't know all the science or how it does it, all I know is that it works and for $5 I don't feel like I need to ask too many questions 🙂 Get the brush HERE
CLOTHES: What we wear really effects how you feel, which is why I did a live on Instagram with Meghann (stylist/closet therapist) where she shared A BUNCH of good tips on how to create a wardrobe that makes you feel good everyday. Unfortunately I couldn't get the video to save 🙁 BUT you can join her free Facebook Group or get her free capsule wardrobe essentials guide!